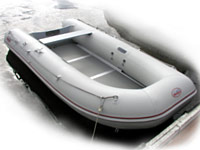 Boat balloons are made of a reinforced five-layer material PVC DURATEX 1100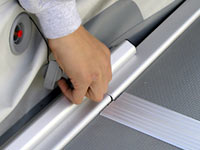 We provide a 5 years' guarantee for the material of the boat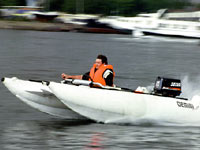 ZapСаt
The first inflatable catamaran in Russia
Balloons and outboard implements for our boats are made at a factory in South Korea under the Badger trademark. Boat balloons are made of a reinforced five-layer material PVC DURATEX 1100, which has the density of 1.1 kg/m2, while the bottom is made of a similar material with the density of 1.3 kg/m2.
To ensure the optimum pressure distribution, inflatable balloons are divided by elliptical partitions and equipped with Push-Push type patent valves made under our special order in Italy.
At our small production facility the boats are provided with a bottom with aluminium locks. The bottom ceiling of the boat is made by us in St. Petersburg of specially prepared multi-ply veneer. The ends of water-proof plywood panels are protected by reinforced aluminium sections.
The Badger inflatable boat is a full-value solution for people who have no dock for wintertime lay-up of the vessel or for those who do not wish busying themselves with a trailer required to carry a metal or plastic boat. We provide a 5 years' guarantee for the material of the boat and quality of the seams and a 1 year guarantee for all the outboard equipment, including the bottom ceiling, oars and the pump. Therefore, more and more potential buyers choose the Badger inflatable boats.
Quite recently we started cooperation with the Gemini company Gemini company. ZapСаt has become the first inflatable catamaran in Russia.
You can feel ZapСаt only by trying it on water. Which is what we have done. Just turn the accelerator handle, and the boat is literally "shot" from water. And it is already smoothly flying over the waves. A sharp turn, a column of splashes and the overloads remind you that it is not for no reason that extra fastening for feet is mounted on the vessel.
The first testing in Russia, carried out jointly with experts from the Inomarka (Foreign-Made Model) magazine has shown that with the Selva 30 engine, ZapCat is capable of making up to 65 km/hr.
Scoprega Bravo is a well-known Italian producer supplying us with inflatable boats accessories.

All foot-operated Bravo pumps are made of high-quality plastic, and all metal parts are of stainless steel. Each pump is provided with universal adapters.