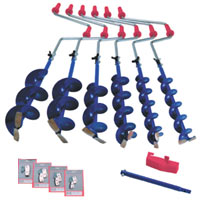 Ice Augers Eriksson significantly exceed all existing domestic analogues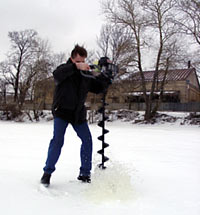 The motor ice auger Mora Magnum is made in cooperation with the Strike Master
Eriksson is a well-known Swedish company dealing with steel products manufacture. Eriksson's knives and ice augers have become very popular both in their motherland and all over Scandinavia. Excellent quality and longevity are the components of success and popularity of these articles now here in Russia too.

By their performance, durability, manufacture quality and blade steel quality, the Swedish ice augers Spiralen, Expert и Viking significantly exceed all existing domestic analogues.
Ice augers are excellent at drilling both dry and wet ice, keeping the factory sharpening for a long time.

The motor ice auger MORA Magnum is the latest Swedish design made in cooperation with the American company Strike Master.

MORA Magnum is provided with a new reduction gear ensuring auger rotation at a speed up to 240 r.p.m. The Scandinavian leader in ice drilling has equipped its new article with an auger especially designed for high drilling speeds. It can be stated with confidence that when fifty or sixty holes are to be drilled, not just ten, it is the new Magnum III that is a fine alternative to the "grandfather's" ice-pick.

Besides, we are actively cooperating with the American company StrikeMaster, which supplies us with sharpeners for ice auger blades.

We are interested in further expanding partnership relations with winter ice-drilling gear and other wintertime fishing equipment manufacturers.