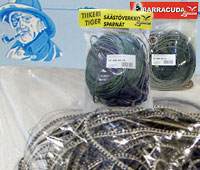 Upon agreement with Lindeman, we produce three types of nets: Tiger, Barracuda and Lohi Verkot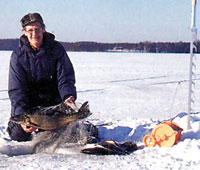 Our nets are popular all year around
In 1996 we bought a Net Mounting Machine from the company Lindeman and established a small net mounting enterprise. A little later, we acquired several tens of Braiding Machines for the production of float and lead lines.
Therefore, starting from late in 1990s, our company has been dealing with net mounting and production of fishing lines at an enterprise of our own in St. Petersburg.
Upon agreement with Lindeman, we produce three types of nets: Tiger, Barracuda and Lohi Verkot.

Barracuda and Tiger nets that have received the best references from fishers in Russia and Scandinavia are machine-mounted on continuous floating and weight lines. To manufacture LOHI Verkot nets, special high-strength multi-fibre net sheets are used, which are made by braiding from 3 and more monofilament line threads.
Besides, we offer our customers net sheets for making fishing nets. This group of goods is supplied by the Finnish company Kivikangas.
Finnish fishing nets are highly manufacturable, which ensures a low production cost, and due to an original mounting method, their catching capacity is higher as compared to their analogues.
By their convenience in use, machine-mounted nets rank highest among Russian fishers.
We are looking for new partners in order to develop the production and are interested on cooperation with producers of net sheets, net mounting lines, polypropylene threads and other component parts and materials.