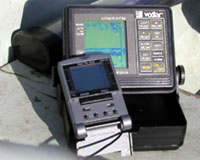 GPS navigators and fish finders from famous manufacturer

Vexilar
Leader in color flasher depth finder / fish finder technology
Water resources management by industrial enterprises that is not always correct, as well as the fishing that is often not supervised by anybody, have resulted in the fact that there is much less fish now in a number of our country's regions than there used to be. Respectively, the search for fish became much more difficult, and special equipment is required for that purpose. The fish finder has become a kind assistant in this for many of our fishers.

We offer our clients the modern model series of instruments made by Garmin, forward scanning sonars Interphase Interphase, as well as wintertime fish finders Vexilar.

Russian navigators have appreciated the Interphase fish finder, which makes it possible to see through water both under the vessel bottom and ahead. Thanks to this, collisions with rocks and reefs can be avoided, a navigable channel in shallow waters can be found, the structure of the shore slope can be closely discerned, a safe passage among reefs can be found, grounding avoided, and fish seen before it can notice anything.

The unconditional leader in the world of colour fish finders are products of the Vexilar company. With the new FL-18 fish finder model of the Vexilar company one can fish immediately after fish is detected, saving time and space, without loosing one's way and without wasting time purposelessly on ice, while waiting for bite. An important feature of the Vexilar FL series fish finder is that the fisher can see his bait right on the screen of this superb instrument. As a result, the fisher will always be able to feed his bait directly to fish.

This year we have started cooperation with the Navman company and are sure that our fishers will appreciate this new series of instruments.