Testing of the Sonar GKF-02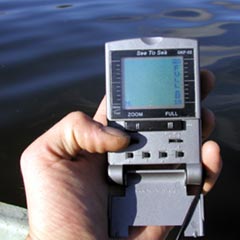 The sonar was tested during training before the All-Russian Spinning Competition Saratovskaya Blesna (the Saratov Lure) on the Volga near Saratov.

The sonar does not depict the bottom soil structure very clearly. However, it clearly shows all the obstacles such as snags, rocks and edges.
It depicts fish not with a symbol, but with a number of disturber dots. It can not distinguish fish from aquatic plants — they look the same on the screen.
The gadget is of a cigarette pack size; its monitor is equal to the match box. It is practically weightless.
The sensor is standard, it can be fastened to the boat transom with a suction cup (it is not supplied with the sonar) or with a special holder (same as for all big devices).
The cable length allows one to take the device to the prow of virtually any boat. The depth range is 1 to 20 m.
During the testing the sonar showed good results. All the depth range was depicted close to reality.
However, the experience has shown that in deep places (the depth is over 10 metres) the sonar?s parameters should be set at the highest signal power (there are just three switch positions, and the higher the signal power, the shorter the batteries life).
The gadget requires just 4 triple A miniature batteries.
The monitor resolution is not very good, it is much worse than those of the Hummingbirds or the Garmins. Nevertheless it is quite enough for proper visibility at up to 1 meter distance.
Advantages:

The most compact one among all the sonars we have seen before.
The lightest one.
Comparing to its analogues, it depicts the bottom profile, shows fish, has a 'zoom' option for near-bottom or any other water layer, which is more than just showing metric depth.
Works in metric regime.
The batteries run for at least 2 fishing days (we had not finished them).
Standard sensor, not a float.
Easy to operate.
Disadvantages:
Knowing that this sonar is made in Hong Kong we felt a bit distrusting towards it, besides, its design seemed to be rather frail.
Over two days that we were working with it, it twice switched off involuntary.
General opinion:

A cheap and compact sonar for amateurs!