Mora Spiralen and Mora Expert Ice Drills. Two Seasons of Active Operation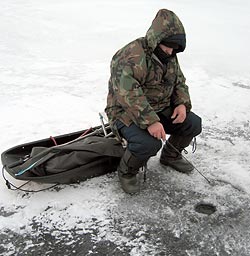 For two seasons, these drills have been actively used on water reservoirs of Amur Oblast, where the ice thickness is up to 3 (!!!) metres. My impressions of the drills are most positive. They doubtlessly exceed all domestic models by capacity, making it possible to 'pierce' ice softly to 1.4 meters with a standard extension insert.
Extension inserts of various lengths is possible under home conditions (which was the first thing I did).
The two-hand rotation system has a very reasonable design, too. The blades are of a very good quality, and you do not need to sharpen them often.
The ice drills have an unusually strong paint-and-varnish coating. They still look like quite new, having neither scratches, nor peeled-off paint.
The handles are strong and warm, which is very good under winter conditions. This is another advantage as compared to domestically made drills whose handles simply freeze through.
Joints are of good quality and handy. It takes just a minute to assemble a drill. The connections have not come loose or broken in the operation.
The straight Spiralen blades are well sharpened using an electric grinder. It takes longer to deal with the Expert blades because of their spherical shape. After correct sharpening, they work excellently, as before!
Under field conditions, it is convenient to use an ice drill blade grinding device, but it is even better to have a set of blades in your stock, as sometimes the drill can hit a stony bottom.
The difference between Spiralen and Expert consists not only in the shape of the blades, but in the drilling speed as well, and, respectively, in the amount of effort exerted. Expert drills faster due to the enlarged pitch. It works splendidly on wet ice and allows drilling ice mounds. However, Expert requires a better physical training than Spiralen. The latter works a bit slower, but it is much easier to rotate it.
It is advisable to use such drills during usual fishing, in the active search of fish and where the amount of catch depends on the number of drilled holes.