The new Sport Line inflatable boat series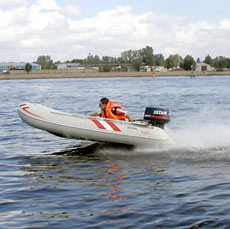 2004 also saw a new series of Badger sport boats with asymmetrical cones at the balloon ends. This engineering solution significantly improves boat's hydrodynamic characteristics and ensures additional lifting capacity which in the end positively influences the boat ability to start hydroplaning and reduces running trim caused by drastic run-up of the engine.

This improvement of the balloon end form along with the pitch outline form improvement has uprated the boat?s general control and manoeuvrability.
Since 2005 the Sport Line boats are equipped with a specially shaped enlarged inflatable keel. The boat pitch outline form is shaped by special inserts.
The specially designed inflatable keel application has completely changed the cross-section profile of the boat?s bottom, ensuring its better hydrodynamic characteristics and improving the boat?s performance.
Side spray guards on the balloons appreciably protect the boat from water ingress on the way.
Since the Sport Line boats are going to be exploited in an aggressive way including accelerations, etc, it was necessary to provide them with a special release valve at the fore body.
This valve is an addition to the air pressure distribution system created with special inner elliptical partitions.
The main longitudinal seams of the Sport Line series boats are thermo-welded by the thermo-welding of the surfaces.
The seams executed by this modern technology are 2-5% more durable than the glued seams. The computer controlled process provides the avoidance of surface imperfections that are inevitable when the surfaces are glued together.
The Sport Line boats are supplied with all the necessary modern technical details, such as a specially shaped spray guard, tent mounting possibility, towing rings at the bow and at the sides, drainage valve at the transom, classical side rope line along both sides, and durable molded handles for transportation.
This inflatable boat series has been specially designed for entertainment, fishing, and family recreation.