The new Selva four-stroke outboards.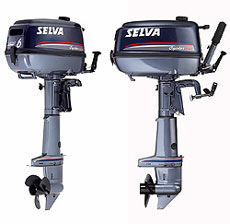 At the end of 2004, after a test run, Selva introduced three new models of four-stroke outboards: Oyster 5 h.p. and 6 h.p. with engine volume of 135 cc, and Black Bass 7,5 h.p. with engine volume of 197 cc.

These models are from the original Selva design. Their special feature consists of the overhead camshaft placement on the one-cylinder engine, which placement provides the reduction of exhaust emissions.
These outboards comply with all current emission standards, and most probably with those that are still in the development stage.
This design has never been used on a one-cylinder outboard before. Special cylinder multiple head design has allowed the outboard?s weight to be reduced to the level of two-stroke outboards.
At the moment these outboards have the best weight-power ratio among their analogues.
It is significant that this series contains outboards with both in-built and external fuel tank. The engines can be started only manually and are supplied with a 70 watt generator.
It is also interesting to say that all the outboards irrespective of their power weigh 27 kg.