Boat-Show is back on the Banks of the Neva!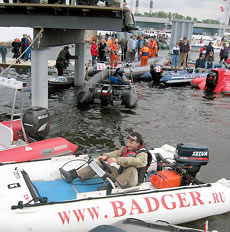 Badger is pleased to invite you to the Boat-Show exhibition that is to take place at the Lenexpo Exhibition Complex's territory on 5th to 9th June 2002.
Every year the exhibition in St. Petersburg has become more and more popular — both the number of participants and the number of the visitors are increasing. At the exhibition you can get to know and test virtually any boat.
Badger is going to exhibit the modern PHOENIX inflatable boats and the Selva outboards.
Furthermore, at the exhibition you will see this year?s new products: the VEXILAR sonars for ice fishing (the USA), the KEN reels for spinning rods (Japan), the SPORTEX spinning rods, the WILLIAMS lures (Canada), the BOMBER wobblers, and the new collection of landing nets and life vests.
All the motor boat owners are welcome to participate in the absorbing competitions held at the Boat-Show Exhibition in St. Petersburg.
For more information please contact the Katera i Yahty Magazine (The Power & Sail Boats) at:
mail@katera.ru
.