One More Fish Recognition Quiz has been Completed.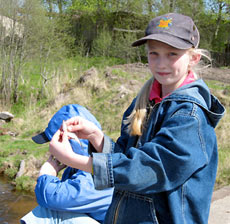 The point of the quiz was to recognize a part of a fish from its photo. According to the competition rules there are three prizes – one for the participant who answers the question correctly first.
The second prize is a raffle between all the players who answered the question correctly, and the third one is a raffle between the customers who made purchases at the Badger.ru Internet shop during the quiz period, who also answered the question correctly.
The correct answer to this question is 1 (The brook trout)
We would like to congratulate the winners:
1st place — Serguey Gavriliuk (Moscow)
2nd place — A. K. Tymbaeva (Ioshkar Ola)
3rd place — Vasily Ivanovich Doroshenko (Pskov)*
* — since there were no correct answers from the Internet shop customers, we chose the third winner in the same way as the second (in case there was a mistake and there were customers who answered the question correctly, please do not hesitate to contact us).
The quiz prizes were rendered by Badger.