Selva Madeira Achieved a Leading Position in Inflatable Boat Race.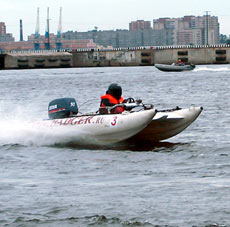 As a part of the June exhibition Boat Show St. Petersburg 2004 in the Finnish Gulf there was the annual inflatable boat race for the prizes provided by the Katera and Yahty Magazine (the Motor & Sailing Boats).

This year several inflatable boats made by various producers were equipped with the Selva outboards.
Evidently the 2nd place that the Tanais team won during last year?s 24 hour race on a RIB equipped with the Selva Portofino outboard proved that the Italian outboards can compete as equals with Yamaha and Mercury.
Once again this race proved this thesis to be right. Inflatable boats equipped with the Selva Madeira outboards (50 h.p., 684 cc) won prizes in the under 700 cc class. What is significant is that these outboards were installed on the inflatable boats, and their main competitors in the race were RIBs.
Both Selva Madeira outboards that took part in the race were standard; the teams had made no special 'race? engine alterations.
One of them was installed on the Corsair inflatable boat straight out of the box literally the day before the race (an old Russian tradition) and apparently was not even properly run-in.
The other outboard had been run by the Badger team for several years in the most extreme conditions, and in a 'very used? condition was installed on the Zap Cat inflatable boat.
After all, despite their state, the engines successfully ran the 20 minutes race at maximum performance.
The Selva Madeira are sufficiently powerful outboards with a straightforward design; each cylinder has a carburettor and a separate fume out take which ensures the engine?s superb running performance in general and fine adjustment for each cylinder. Two cylinders in this series engines ensure the outboard?s perfect running qualities, and keeps it within an optimal price range.
One of the design features of this series is the model EMA designed to be installed on the boats with 380-400 mm transom and automatic oil setting system.
Badger would like to express its sincere gratitude to the Italian racers Lorenzo Selva and Maurizio Selva; the Zap Cat?s racer Vladimir Polyakov and to the Corsair?s team that raced with our outboards in 500 and 700 cc classes, for their assistance in pre-race preparation and racing in this victorious race!