The Badger Cup Championship has been Completed!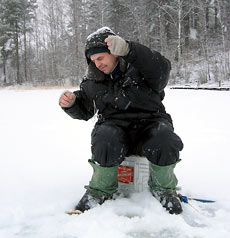 The traditional ice trolling Badger Cup championship took place in January 2005 on the northern shore of Lake Ladoga near the village of Hiitola.
This was the third championship in the Leningrad region organized with the support of Badger.
The first competition took place on the ice of lake Hepoiarvi, last year it was lake Mikhalevsky, this time the competition was held in the Ladoga skerries,
This time thirteen teams, consisting of 3 sportsmen each, from St. Petersburg, Moscow, Murmansk, Korolev, Yubileiny took part in the championship.
Sportsmen competing in individual classification were also accepted.
Although the weather this year is unfavourable for ice fishing, fishing in skerries remains safe.
Brief results:Team classification:

1. Rybalka na Rusy team (Fishing in Russia) (Balachevtsev, Popovtsev, Shtern)
2. MVOPVO (Veliashev, Voskresensky, Kurenev)
3. Rybolovny Almanac (The fishing almanac) (Alexandrov, Konstantinov, Scherbina)
Individual classification:

1. V. Veliashev (MVOPVO)
2. E. Konstantinov (RA)
3. A. Popovtsev (RnR)